best for beginners ★★★★★

suitable for:long hair、oily hair、damaged hair、beginner
creates refreshing and smooth lather, removes dirt and rinses easily, shortens the transition period for those new to hair soap
Ingredients: Aqua、Sodium Cocoate、Ricinus Communis Seed (Castor) Oil、Camellia Oleifera Seed Oil、Citrus Grandis (Grapefruit) Peel Oil、Indigo Naturalis (Qing Dai) Powder、Sodium Hydroxide*
*None remains after saponification of oils into soap and glycerin 

Featured Ingredients: Grapefruit Essential Oil、Indigo Naturalis Powder
for hair、face、body


About Sailing Day
This formula creates a finer lather than other formulas with a medium cleansing power,imparts smoothness to the hair.Sailing Day is less likely to react with the magnesium and calcium ions in hard water, making it a good choice for those who may experience buildup with other hair soaps.
Ideal for those who are new to hair soap and those living in an area with hard waterSailing day is recommended for those who wish to speed the transition period from conventional shampoo to hair soap.
When used correctly, Sailing Day is least likely to create buildup in the hair.
We recommend that you use Sailing Day for three months before opting for one of our more moisturizing formulas so that the scalp and hair have sufficient time to acclimate to your new hair soap routine. 
Grapefruit extract 
Cleanses, conditions the skin, balances oil production
QINGDAI 
Qingdai, also referred to as Indigo Naturalis, gently cleanses and enhances the skin's self-protection ability. Suitable for problem scalp in need of repair and healing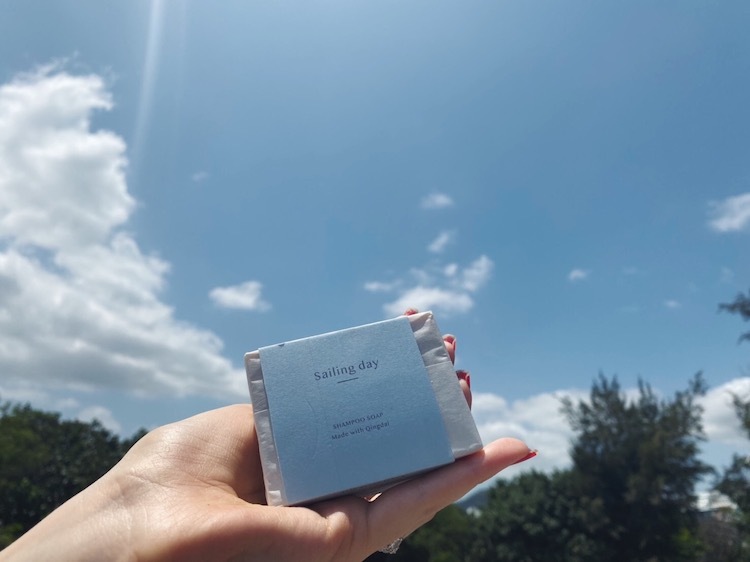 『Everyone's environment, hair type, and scalp condition is different, so their experience with hair soap will be different. If this is your first time using hair soap, we recommend that you contact us or that you first purchase a sample size of Sailing Day』 

When you first begin using hair soap, you will most likely experience a sticky or clumped feeling in your hair.

The reasons for this initial feeling of buildup include: chemical residue from past commercial shampoo use (this is the primary culprit) 、incorrect use of soap、using a soap not suitable for your individual hair type、hard water causing a reaction with the soap

Reasons for clumping:your past cleansing and styling habits were more complex、you have damaged hair、especially long、or very thick hair

If you are concerned about this transition period, we suggest starting your POO FREE journey on a weekend or when you plan to be at home!
Hair soap is a little different than shampoo,some people will experience clumping no matter the soap type,but let's see if you've made the following mistakes first!
Blog post- Am I doing this wrong? 

Soap Care :
Our soap is created using a traditional cold water method that retains the ingredients' active plant constituents,there are absolutely no additives or preservatives in our soap,after opening please place your soap in a cool and dry area,avoiding direct sunlight,please ensure that the soap has fully dried before using again,it can also be cut into pieces to extend its shelf life。

The information presented here at The Soap Days is meant for learning and sharing。Any references to scientific literature are interpreted and presented on this site by The Soap Days and are not intended to be medical advice。
If you are experiencing any concerning condition,please contact a medical professional.