English Below
以下為創始人 Anita 的頭皮頭髮保養方式:
🌱洗髮:自己做的髮皂(2-3天洗一次,但每天洗瀏海)
🌱潤絲:弱酸潤絲,蘋果醋、檸檬酸或檸檬汁用水稀釋沖髮絲,再用冷水沖乾淨(一個月大約3-5次)
🌱護髮:荷荷巴油
🌱精油:大西洋雪松、迷迭香、薰衣草等(加在植物油裡增添香氣、或按摩頭皮用)
–
今天只介紹植物油護髮
(基本上你家廚房的油都可以)✅不確定可問我
–
用量及方法:
🌟1-3滴在手心,搓開,用手指梳頭髮,再用細的梳子梳均勻,手心剩下的油加強於髮尾,如果不夠才繼續加量
–
1. 平時保養
髮皂洗頭➡️吹乾➡️上植物油
–
2. 弱酸潤絲與洗髮皂過渡期
將檸檬酸5g+500ml水稀釋➡️洗頭➡️洗完頭後把頭髮泡進檸檬酸水➡️用手指梳開打結➡️清水沖乾淨
–
3. 受損髮保護
洗髮前髮尾上油➡️洗頭➡️吹乾➡️髮尾再度上油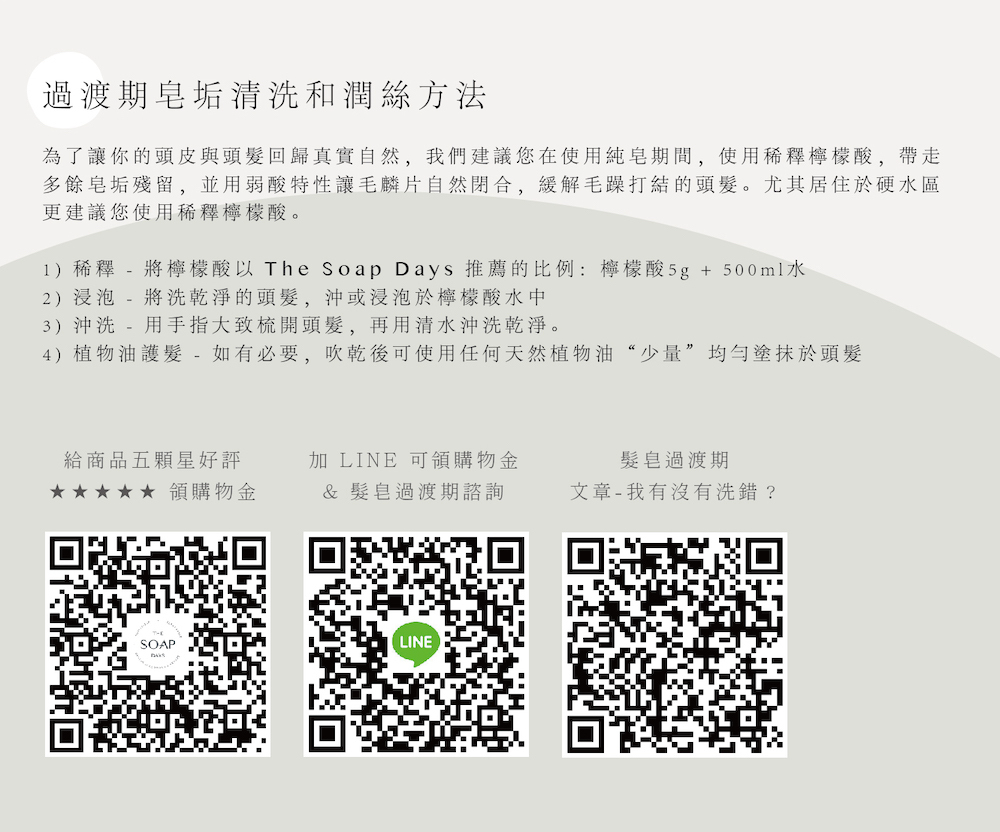 ——————————————————————————-
覺得使用後覺得乾澀的狀況
是因為,洗髮皂不含所有洗髮精有的添加物,
也沒有矽靈,他會讓你的髮質完全真實的呈現,
而不是"假裝髮質好,但頭髮越來越乾"的惡性循環
其實只要不用洗髮精都會有相同的情況,
如用清水洗頭也會,
所以並非單純是手工皂帶來的毛燥乾澀!
在這樣的情況下,我要強烈的建議你,
開始用純天然方式保養頭髮
讓頭髮再也不只是"看起來"很順
而是真正健康的自然美髮!
另外提醒大家
頭皮是活的,毛髮是死的
頭皮與頭髮要分開保養
千萬別覺得會有一項產品,就可以澎鬆又滑順的
雖然我們髮皂真的蠻順不會打結
但是長髮的你,你頭皮的皮脂是不可能滑到下面
去滋養你的髮尾的,一定要植物油保養喔
Anita's hair care routine:
-Wash every 2-3 days, bangs every day
-Use acid balancing rinse 3-5 times per month (apple cider vinegar or citric acid rinse), rinse with cold water
-Scalp massage or end treatment with jojoba oil, adding essential oils such as cedar, rosemary, lavender etc.
Oil method:
Rub 1-3 drops in the palm of your hand
Distribute through your hair with your fingers, focusing on the ends (if doing a scalp treatment, focus on the scalp)
Use a fine tooth comb to help evenly distribute
There are three different routines that are recommended, depending on your individual hair needs
1. Regular maintenance: Shampoo with soap ➡️ Blow dry ➡️ Apply oil
2. Transition period: Dilute 5g of citric acid + 500ml of water➡️Shampoo➡️After washing your hair, apply citric acid water➡️massage to distribute acid rinse➡️Rinse with water
3. Damaged hair protection: Oil the ends before shampooing➡️Shampoo➡️Blow dry➡️Re-oil the ends
Feeling dry after soap use?
This is because hair soap does not contain the additives that conventional shampoos has.
There is no silicon to artificially smooth the hair. You will become re-acuanted with your natural hair texture, and it will take a little time to learn how to naturally maintain truly moisturized soft hair.
Conventional shampoo creates a situation in which your hair appears soft but is actually getting damaged and dried out by harmful ingredients. It is not the hair soap that is making your hair appear dry, it is only the cessation of using your previous shampoo.
If you were to switch to any other method, even washing only with water, your hair would appear dryer than you are accustomed to.
If this is your experience, I would strongly recommend that you s
tart taking care of your hair the natural way
Hair will no longer only "look" smooth,
it will be truly naturally healthy and soft!
The scalp is alive, the hair is dead
Scalp and hair should be maintained separately
To nourish your hair ends, use jojoba or your preferred oil